Francois Tournilhac (Director of Research, Soft Matter and Chemistry, Ecole Superieure de Physique Chimie Industrielles) came to Kashiwa.
【Horiba-ISSP International Symposium (ISSP11)on "HYDROGEN AND WATER IN CONDENSED MATTER PHYSICS"/2009/10/12〜16】
Mr. Takuro Matsunaga received a poster award.
Makiko Takeda received a poster award.(The 3rd Soft Matter Physics Young Study Group)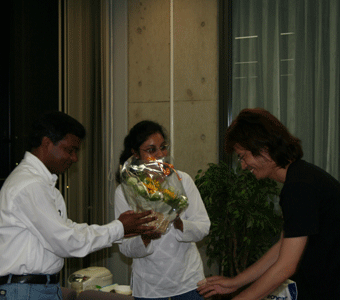 Lecture and practice of neutron scattering
Dodgeball Tournament at Kashiwa
Professor Shibayama gave a lecture.
Presentation title:Structural Characterization of High-Performance Tetra-arm PEG gels
We had a cherry-blossom viewing at Kashiwaboha Park.
The 20th Polymer Gel Debate Asumi Sugimura received a poster award.